A Lynden Lane space is designed to look like it has always existed. It pays respect to its environment by honoring the surrounding neighborhoods, original architecture, and the life that exists within. For this reason, no two Lynden Lane designs are the same. Instead, they're each carefully crafted with attention to the time and space from which they are born.
While each space takes on a personality of its own, over the years, we've noticed the key elements that are infused into almost all of our designs. They help us create depth, evoke emotion, and tell a complete story - and most of all, set the tone for the joyful chaos that's designed to take place.
1. The Contrast of Old & New
As equal parts production, interior and wedding designers, we seek to unearth a layered design filled with heirloom elements and modern customizations that translate your unique story.
One of our favorite examples of mixing old-world charm with modern accents comes from a home wedding we designed and produced in Pasadena.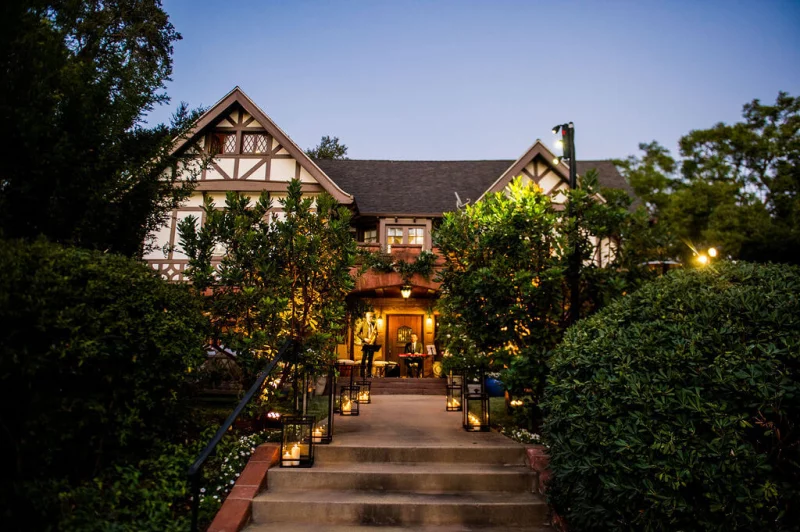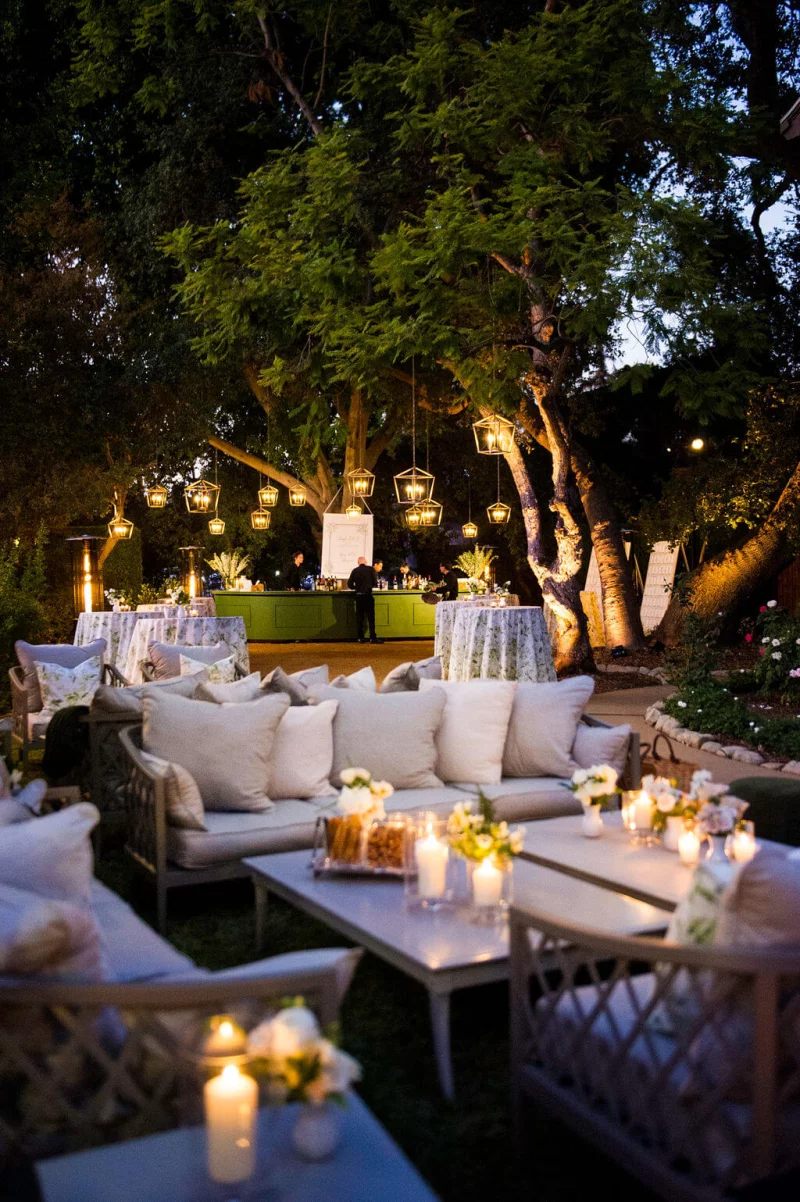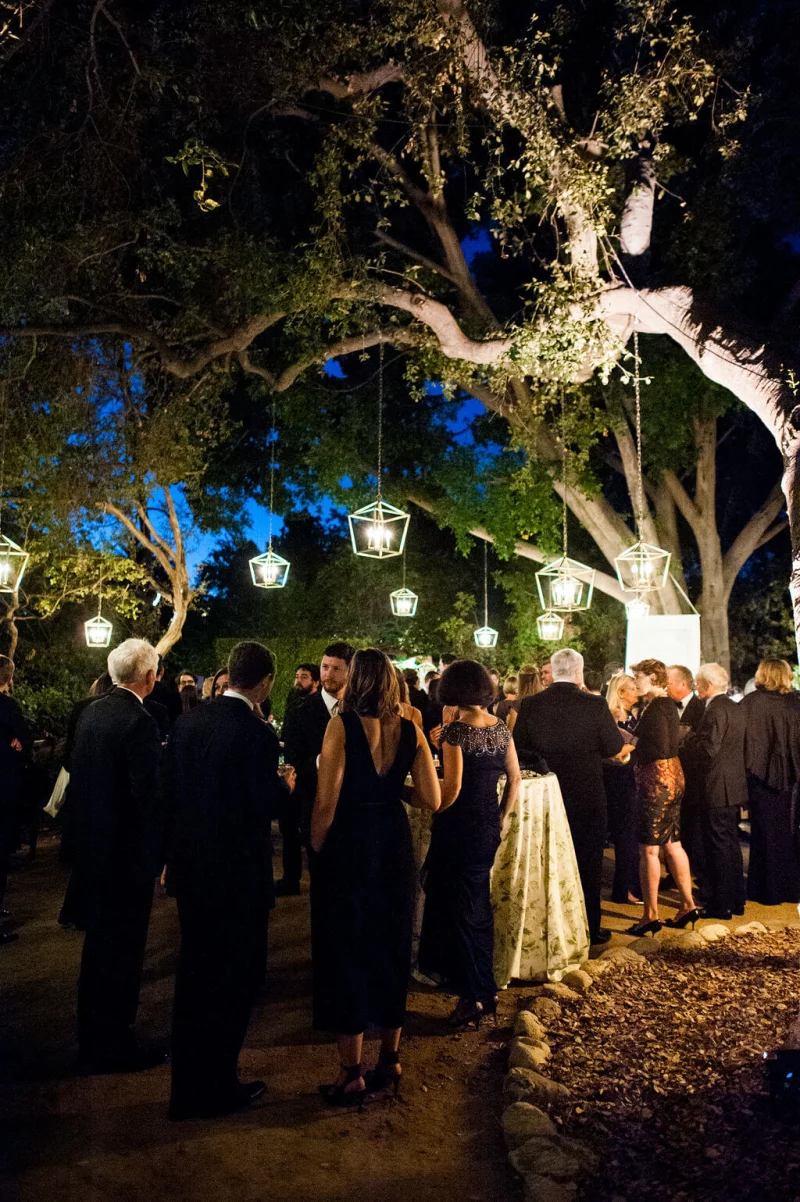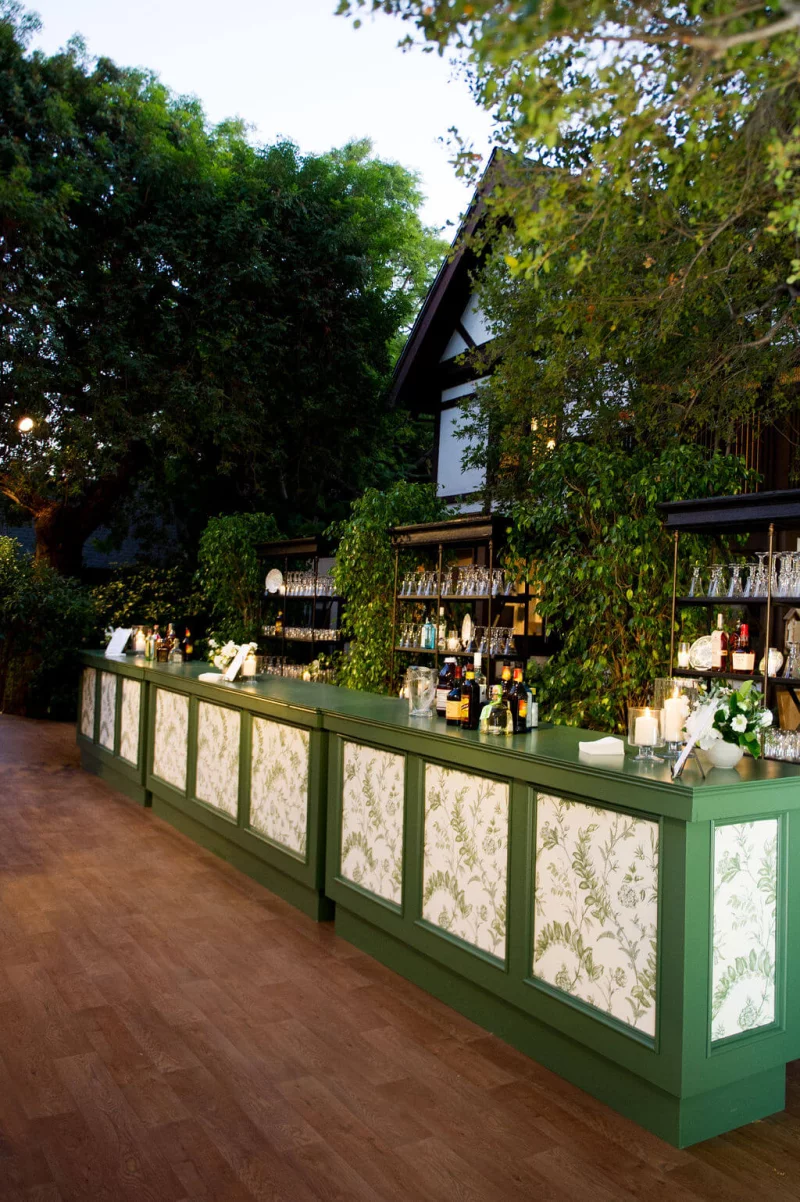 Pasadena private home wedding.
This particular client's home looked like a set in your favorite Nancy Meyers movie, so naturally, Father of The Bride became our inspiration. We sourced green and cream Transferware china to accompany the bar shelves and then lined the bars themselves with indoor wallpaper. Using molded panels for the band stage and painting them with a deep hunter green, we brought the old charm of Pasadena into the new and exciting space of a beautiful outdoor wedding.
In a recent bathroom renovation set en-suite to the home's "music room", we juxtaposed old and new to achieve a soulful design.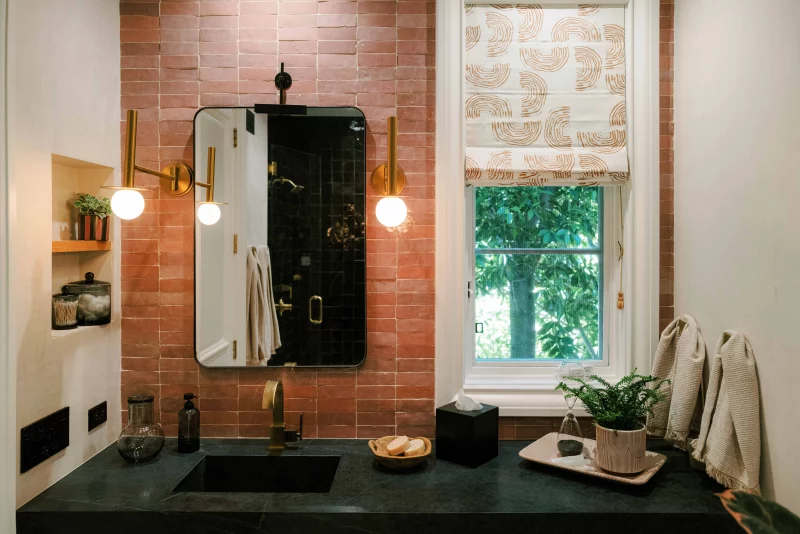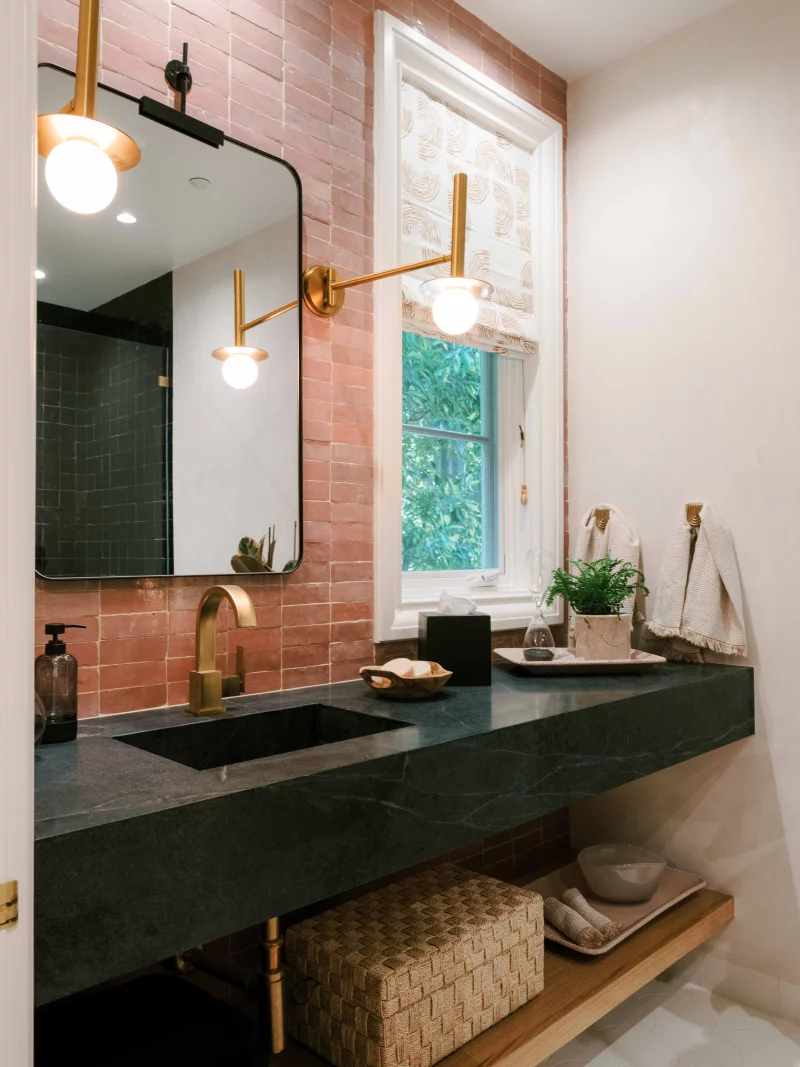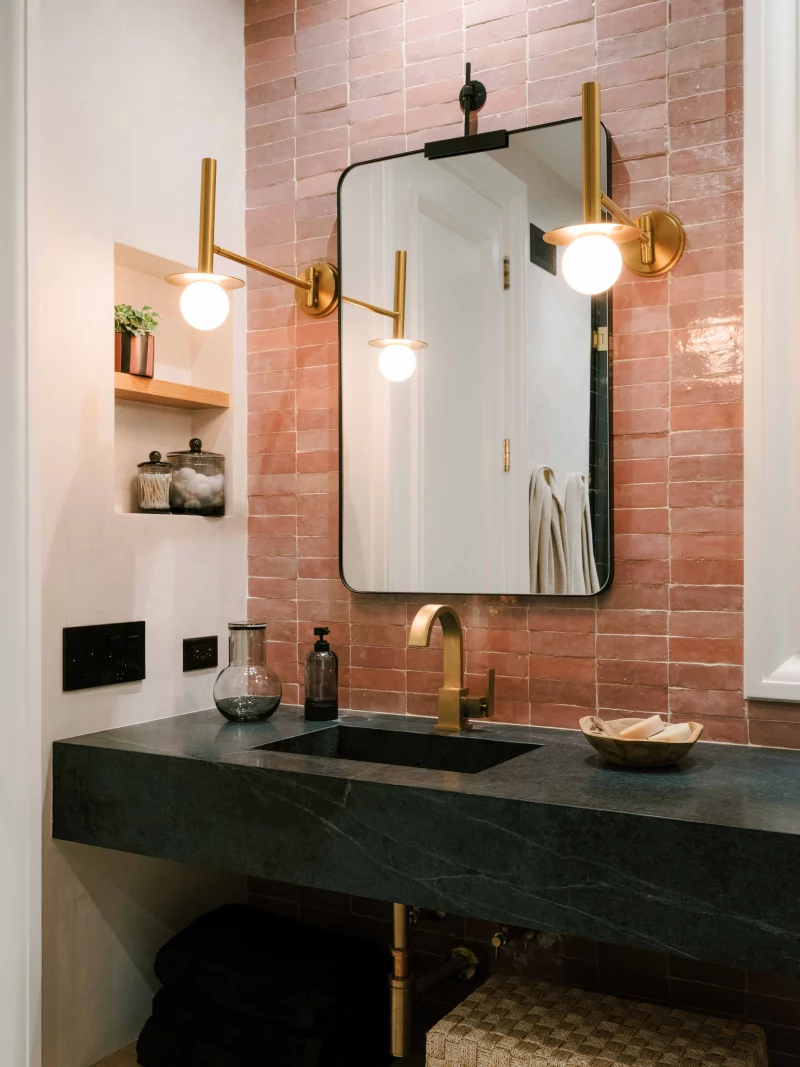 Beverly Hills music bathroom.
This zellige tile by Cle Tile is defined by its imperfections. We used these tiles to set a grounded and griddy backdrop for the space. We then contrasted this old world feel with the clean, simple frame of the Nodes Pivot Sconce. As Barbi says, sconces are like earrings, and these ones brought energy and playfulness to this bathroom. 
2. Intimacy amongst Grandness 
Making grand designs feel curated and rested keeps us up at night.  To us, it results from an intentional understanding of the space, the light, the needs of the moment, and the complicated simplicity of it all.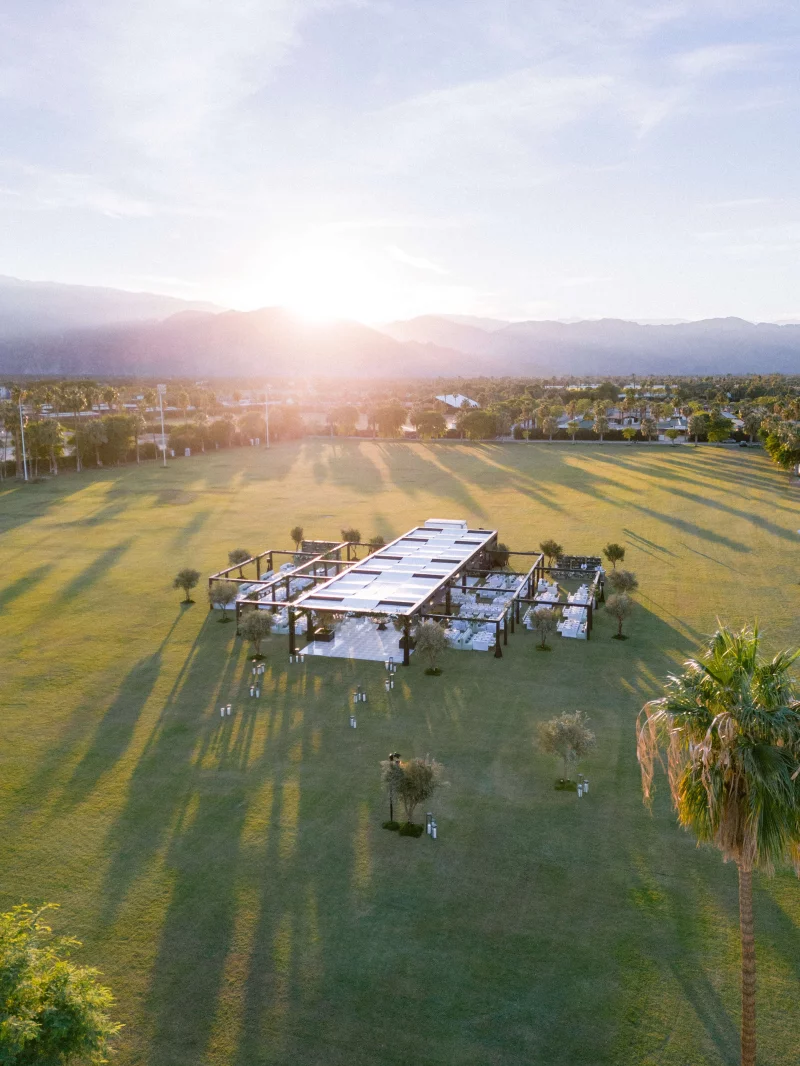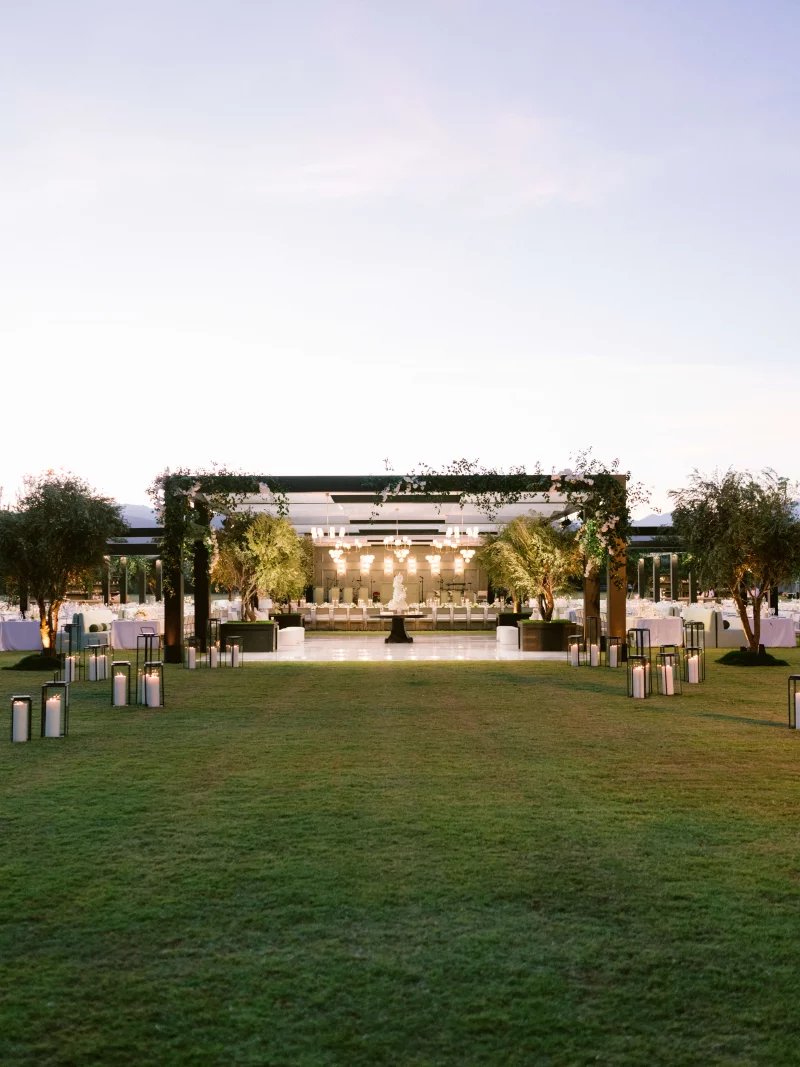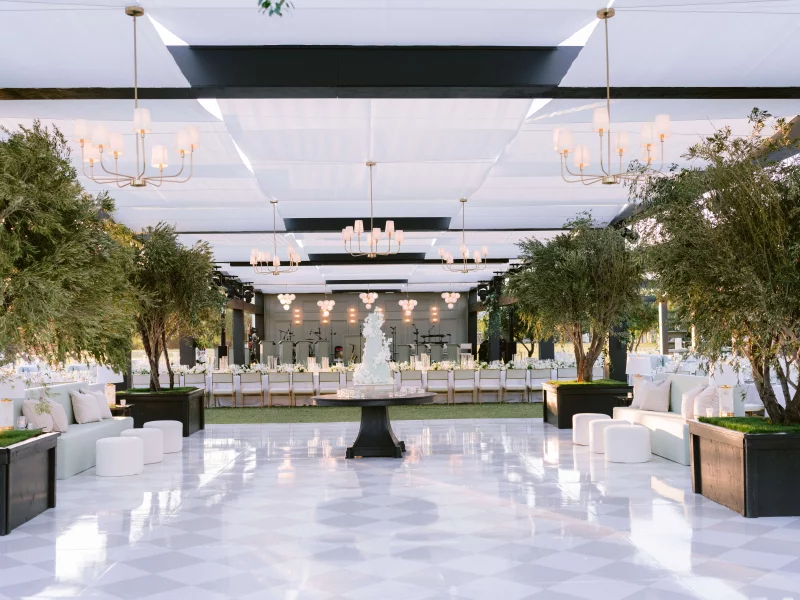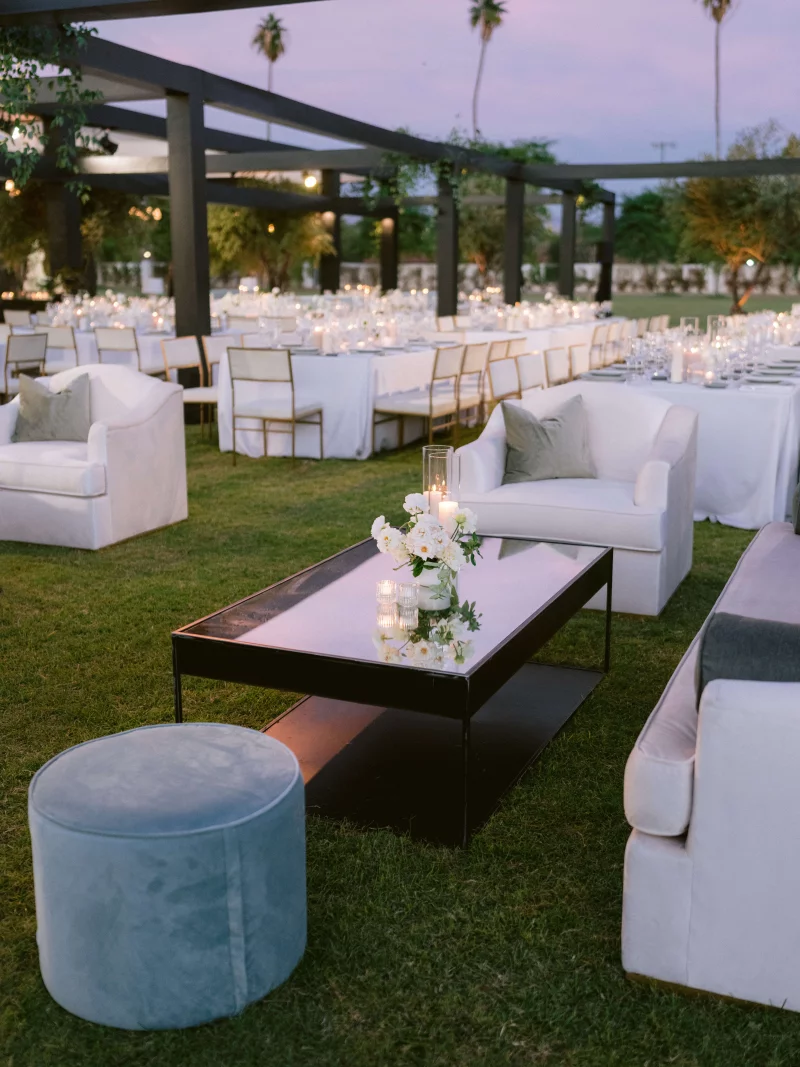 Coachella Polo Fields wedding.
Creating an event on the iconic Coachella Polo fields was invigorating and challenging. Creating intimacy on this massive open space meant architecting a structure to contain the experience. We wanted it to be inviting & warm, while displaying the vastness of the environment.
3. An Intentional Flow
When designing an event or home, the flow of the experience has equal importance to the aesthetic. Our layouts are intended to encourage movement, togetherness, and energy.
When architecting an event at the Rosewood Miramar, we looked at the large rectangular lawn from a holistic perspective. How would the guests enter and how would the space feel grounded and intimate?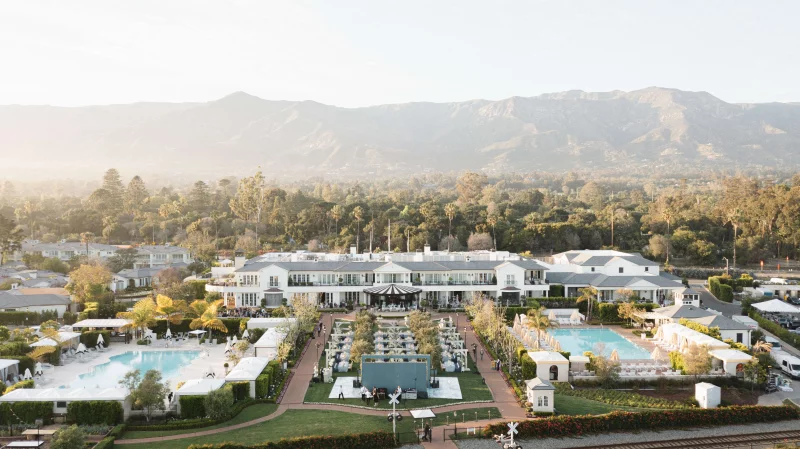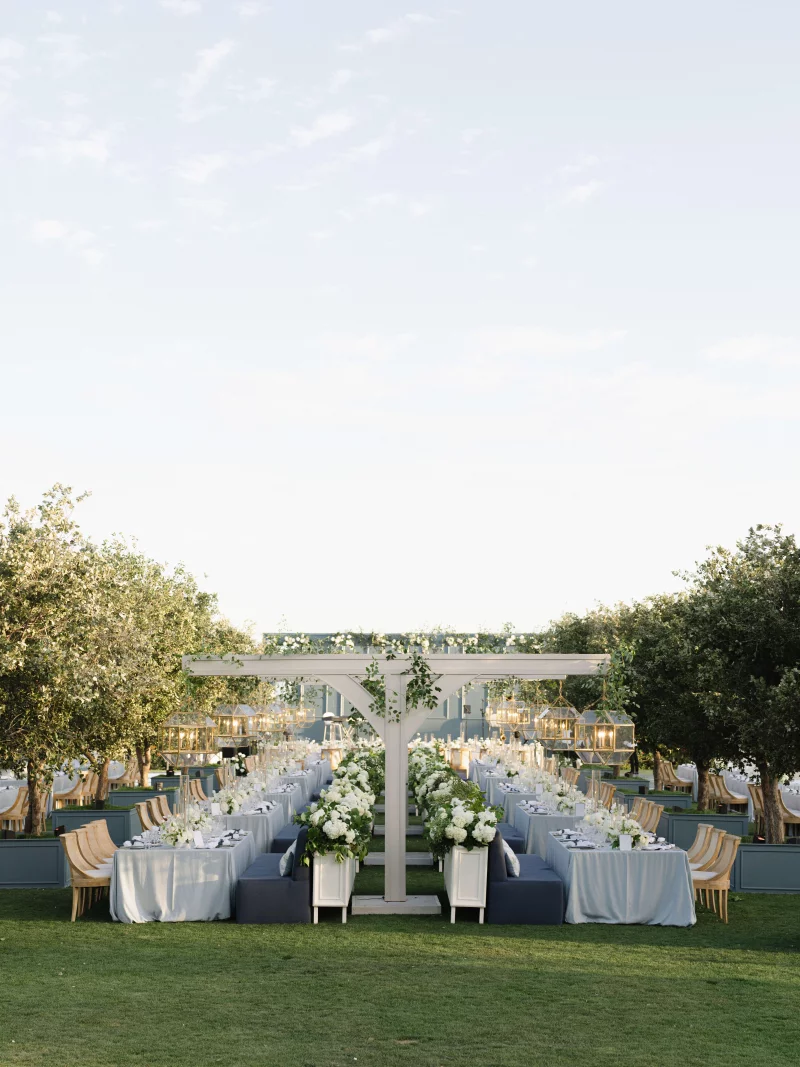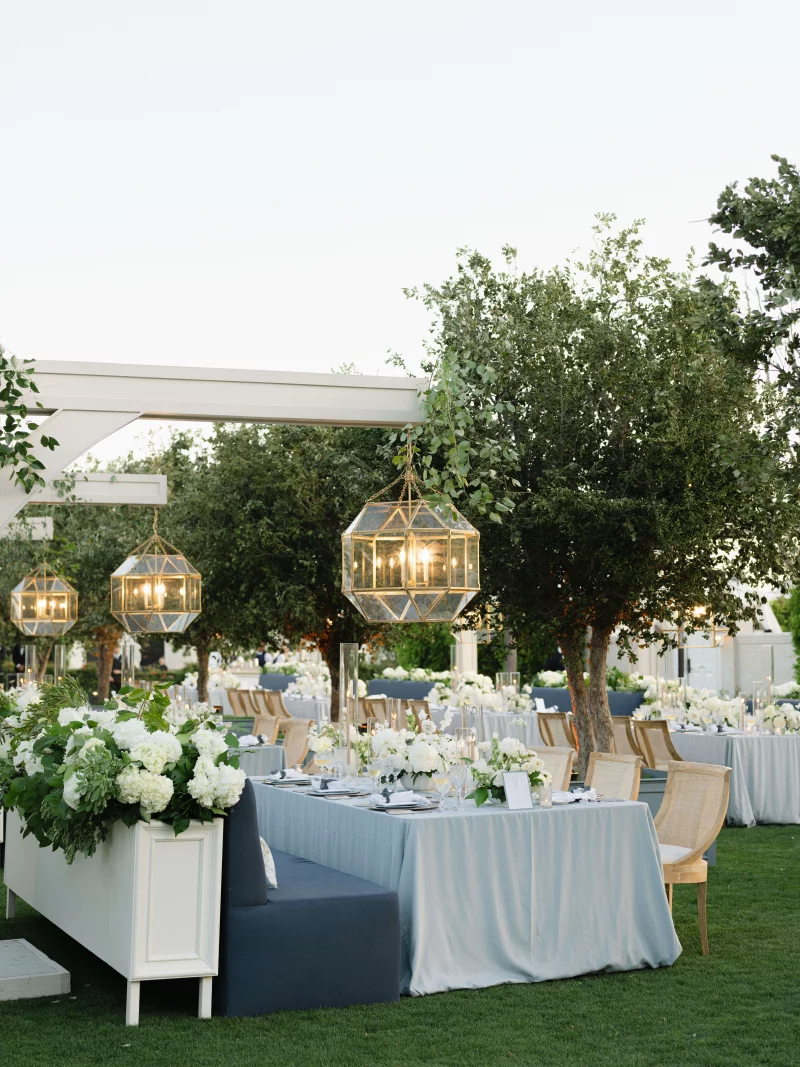 Rosewood Miramar Beach wedding.
We lined the space with olive trees and created seating vignettes as if you were dining at your favorite restaurant. To ensure that the guests felt included in each experience we then elevated the stage higher than normal so that toasts and entertainment carried from the entrance all the way through the event.
4. Representation of local artisans 
We like to shop local. Working with local artisans weaves authenticity into our experiences. For our events, as soon as we finalize a destination, we begin curating creative partners, and that includes a deep dive into the surrounding community and the people who create its treasures. For our homes, we conclude our styling phase with select decor from local makers.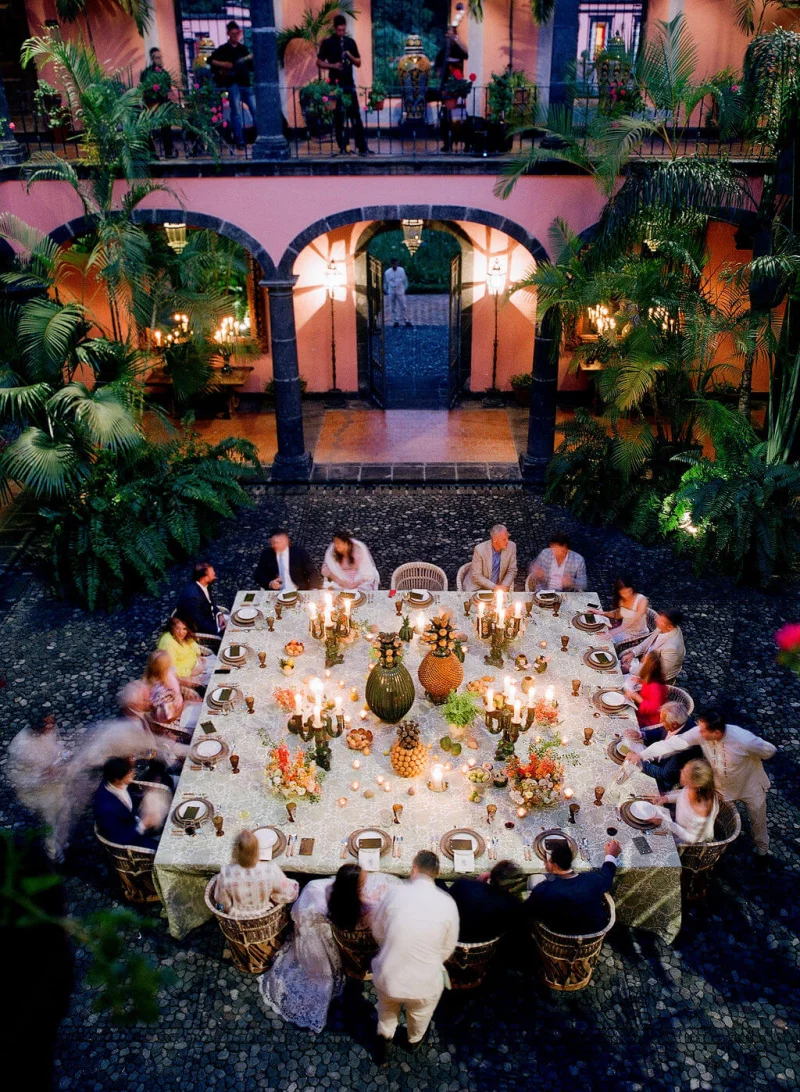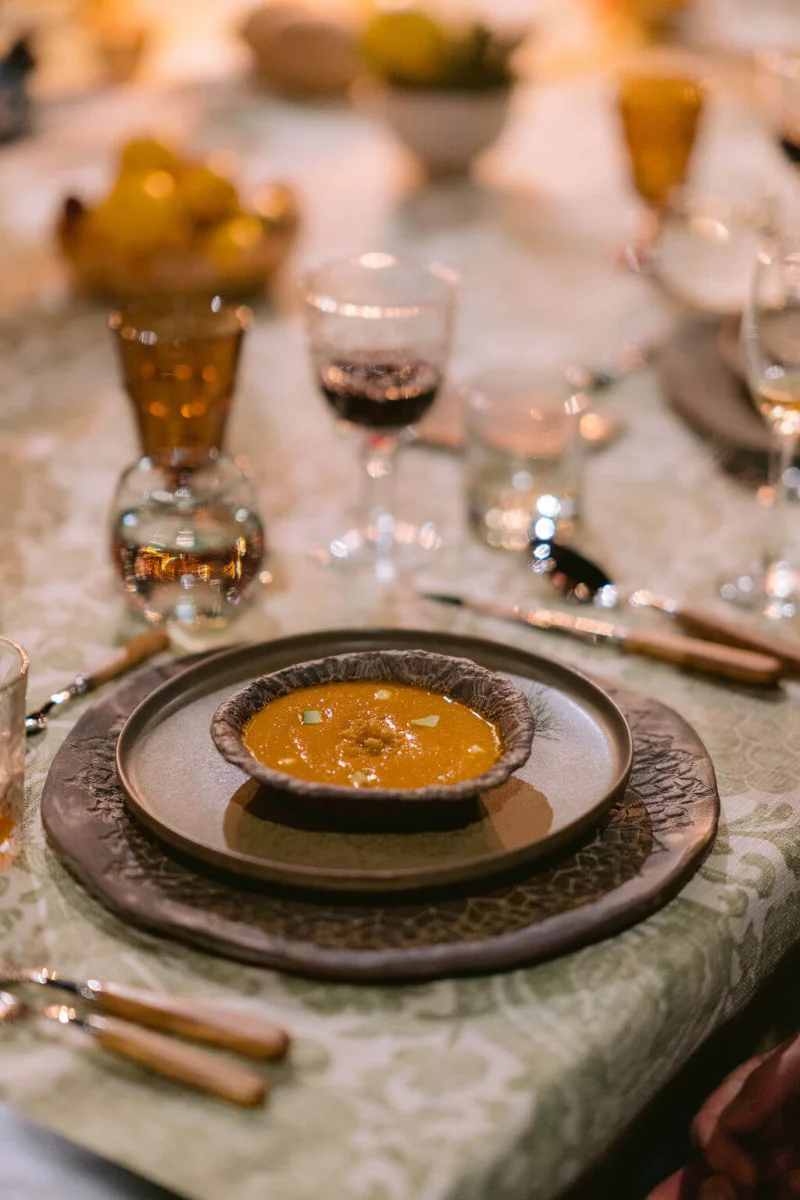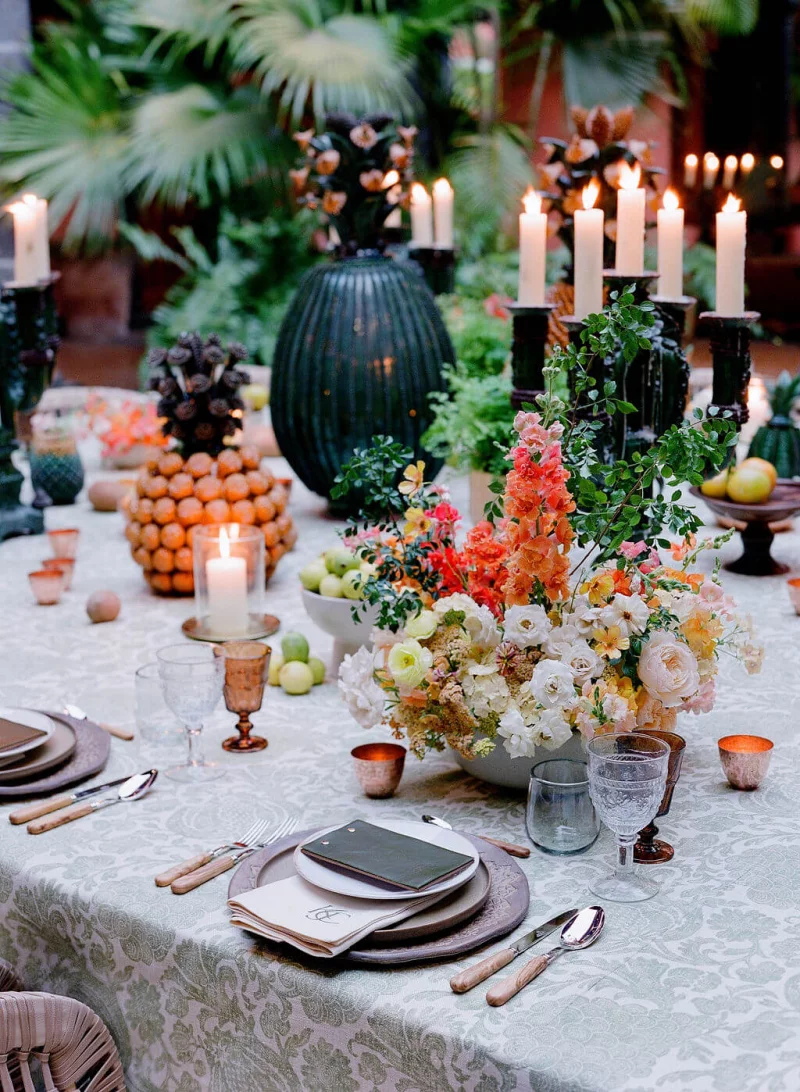 Locally sourced pottery from Colima.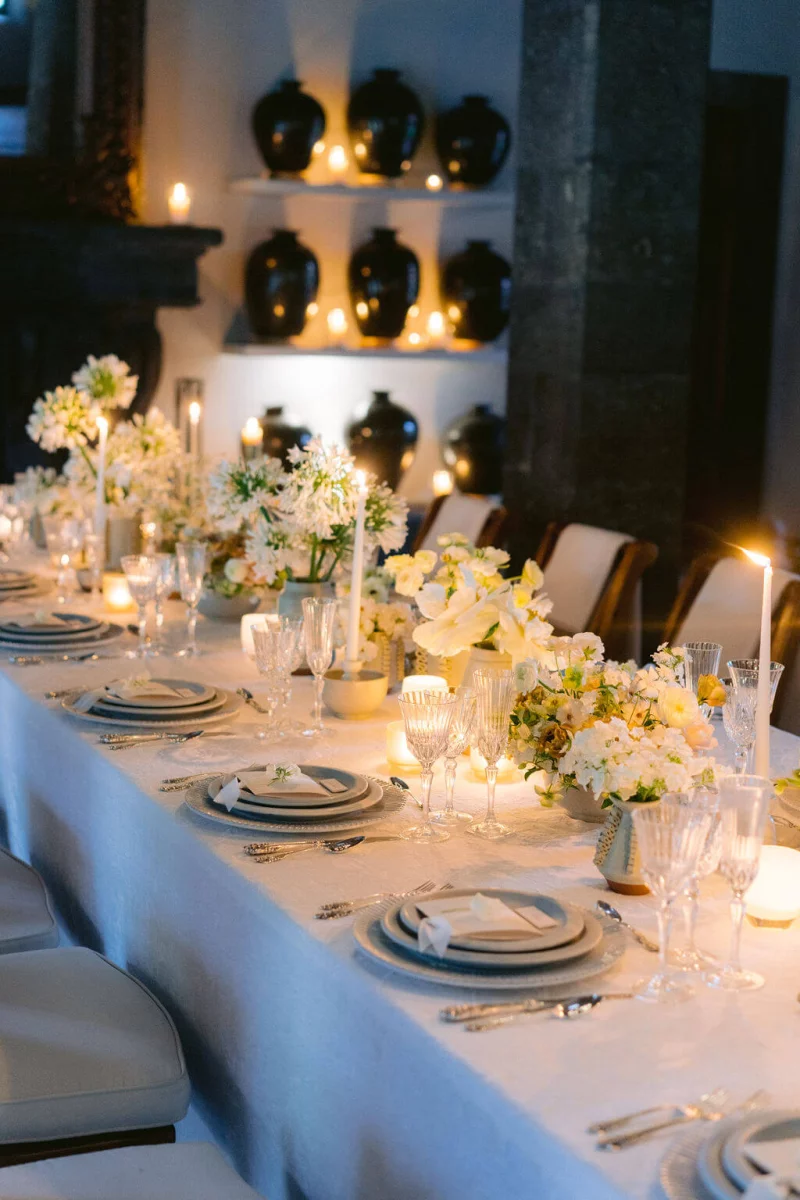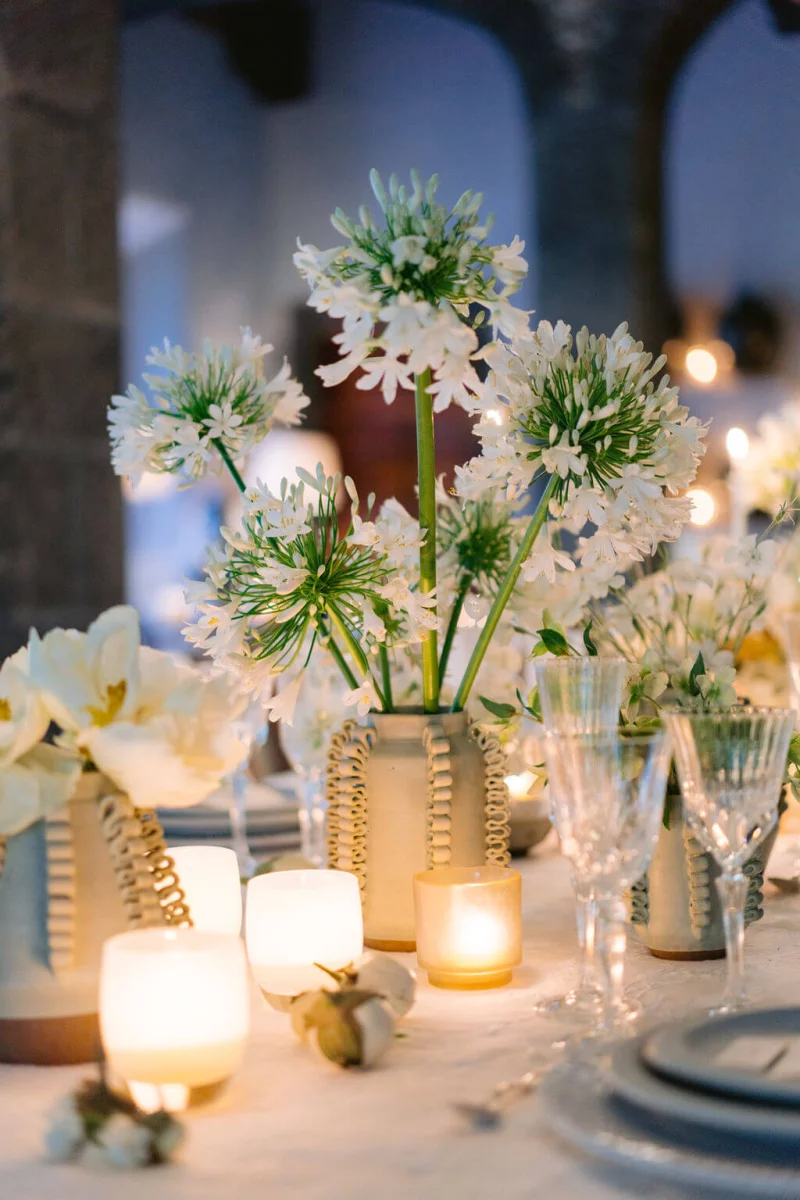 Hand-made ceramics made in San Miguel de Allende. 
5. A Place to Cheers!
Incase you didn't know, we like to drink - coffee, tea, red wine, tequila… We're known for creating a focal point around beverages. At our events, that means hand-painted, custom-built bars, adorned with residential lighting. At our homes, it means a beverage center signature to the family's rituals. Whether that's a smoothie bar, coffee station, or wine cellar.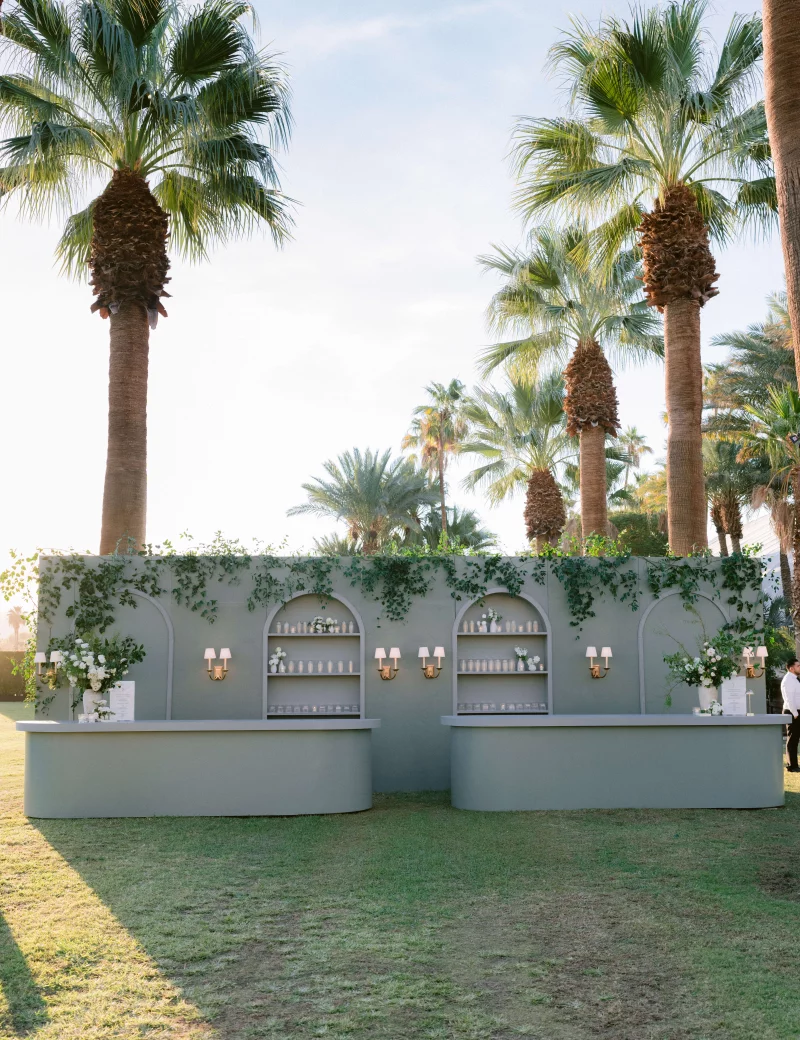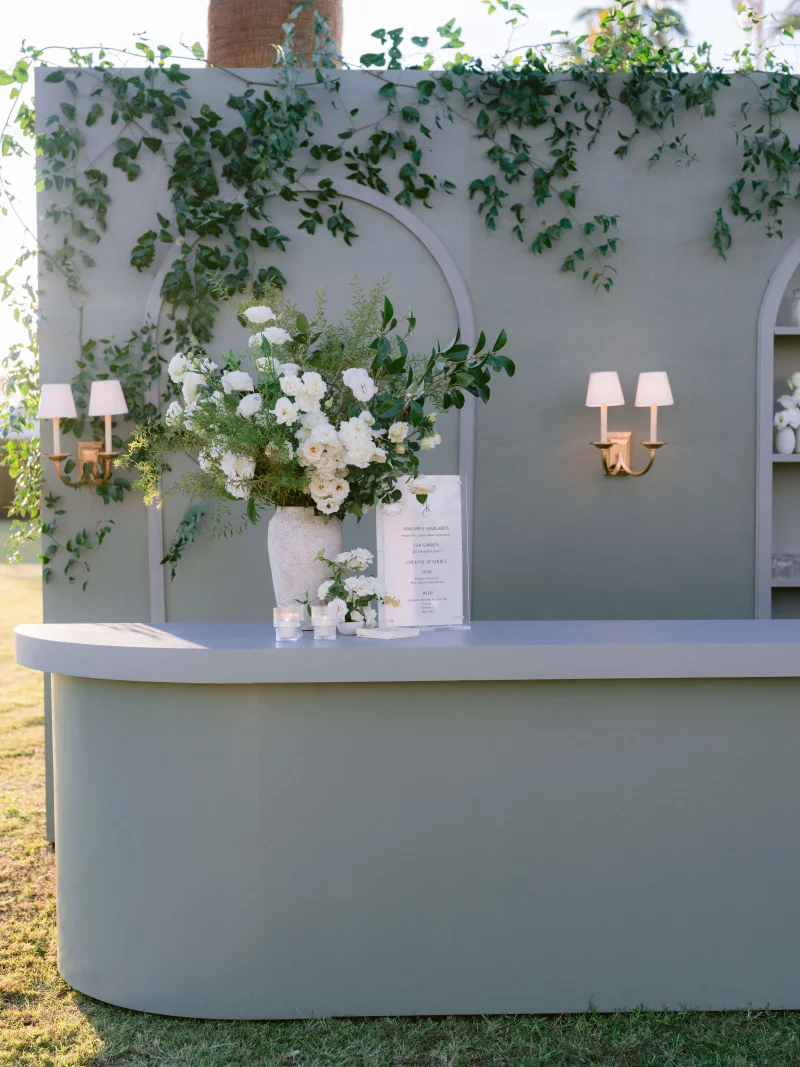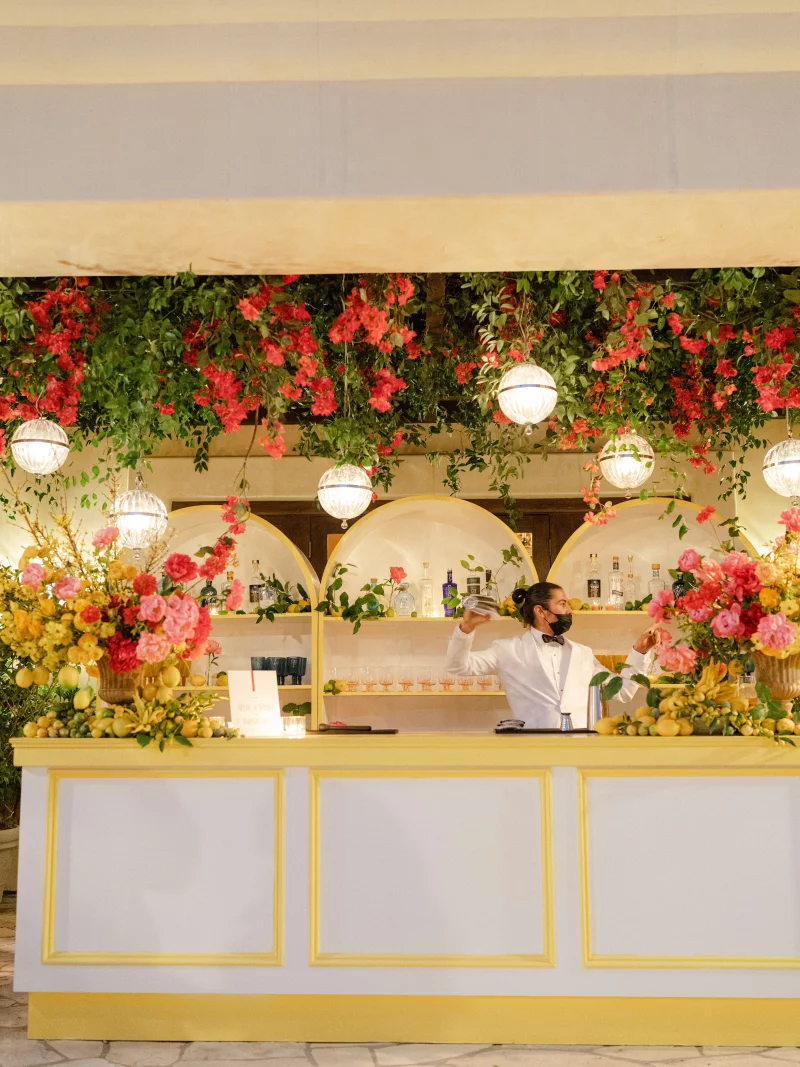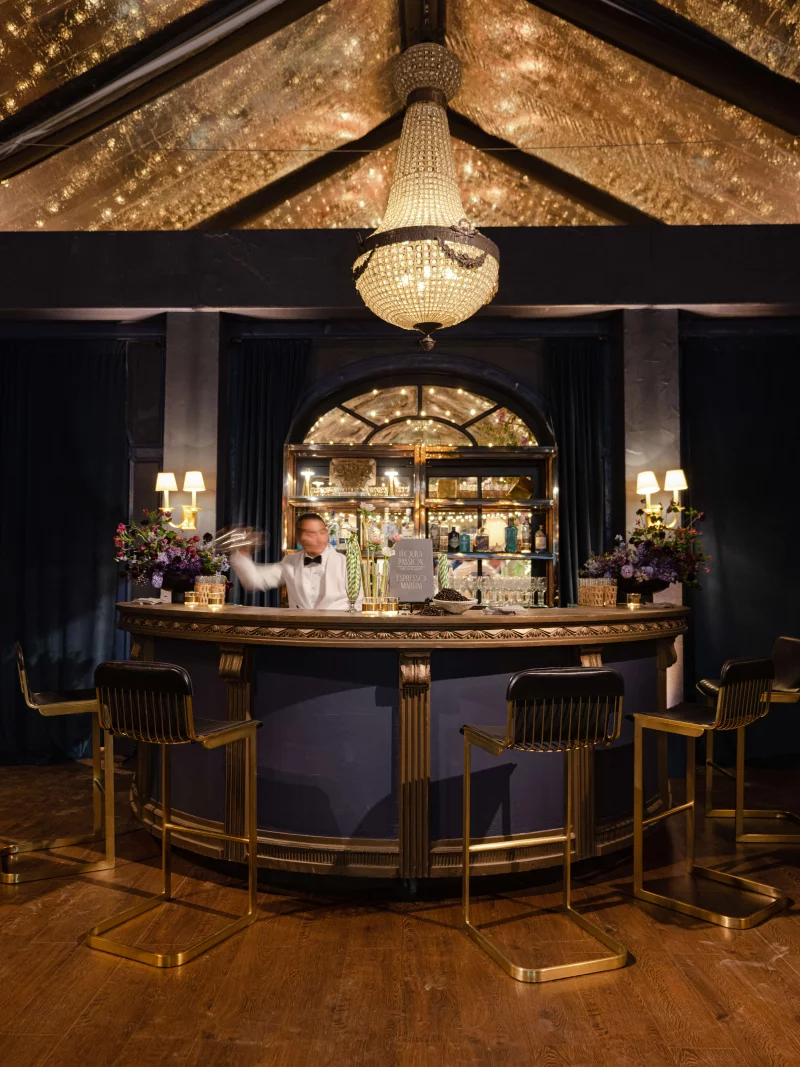 Italy in Malibu - where an outdoor bar welcomed guests to "Capri", and a ballroom bar was inspired by the St. Regis in Rome.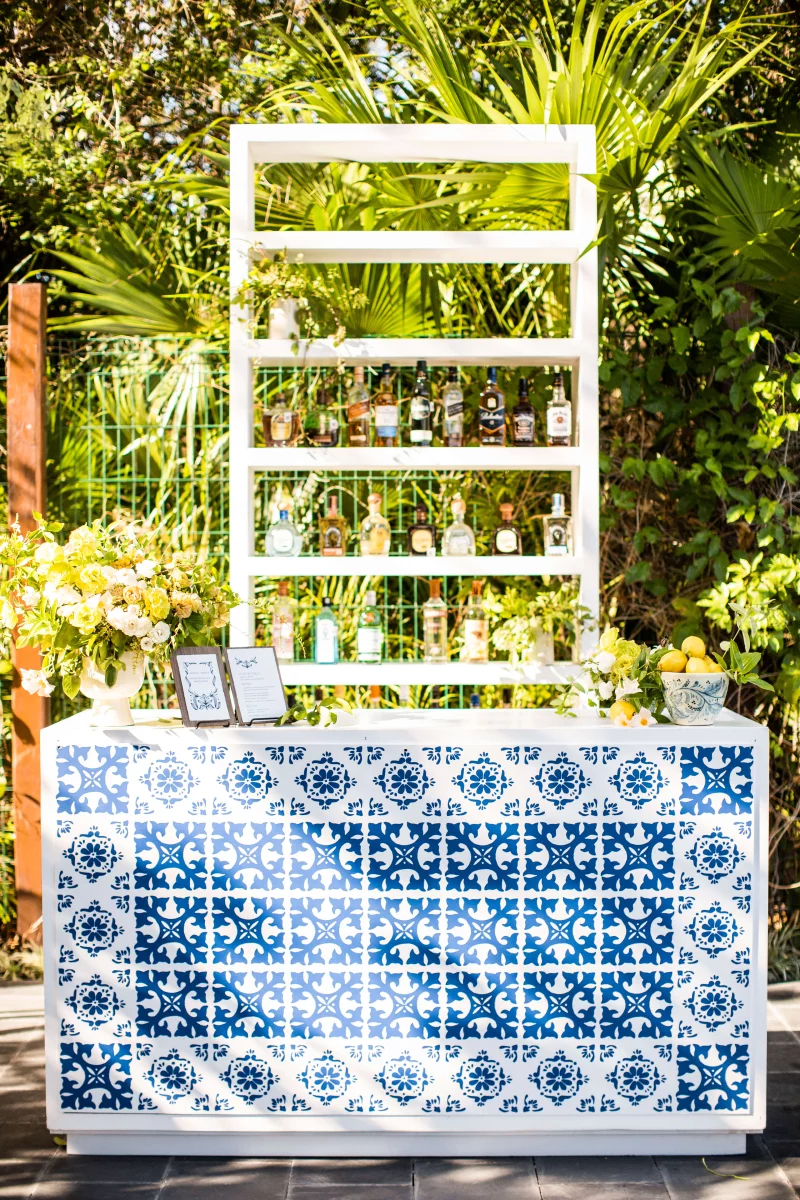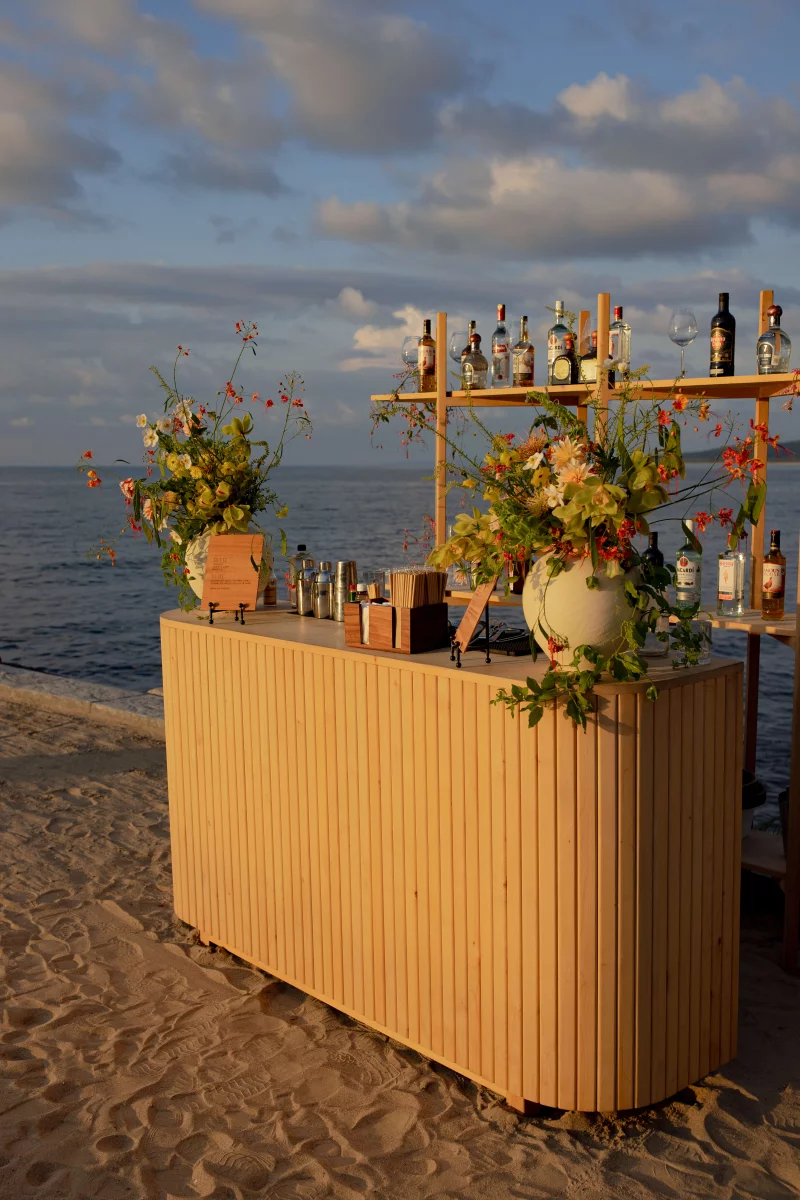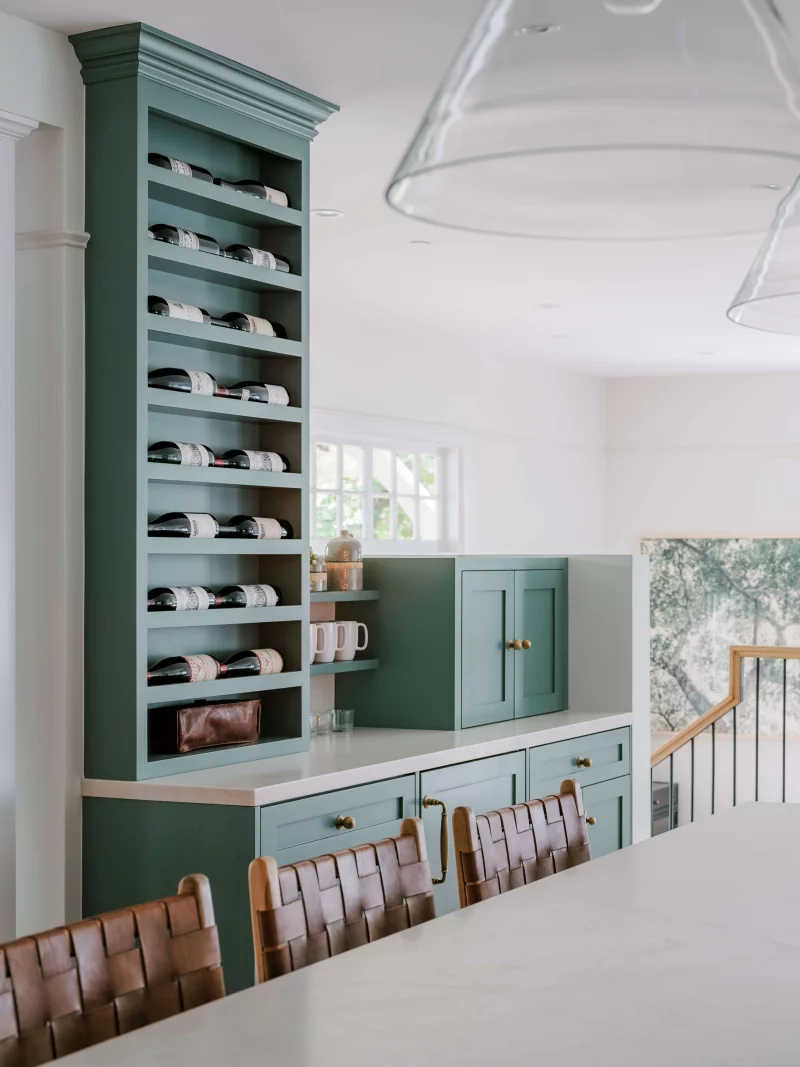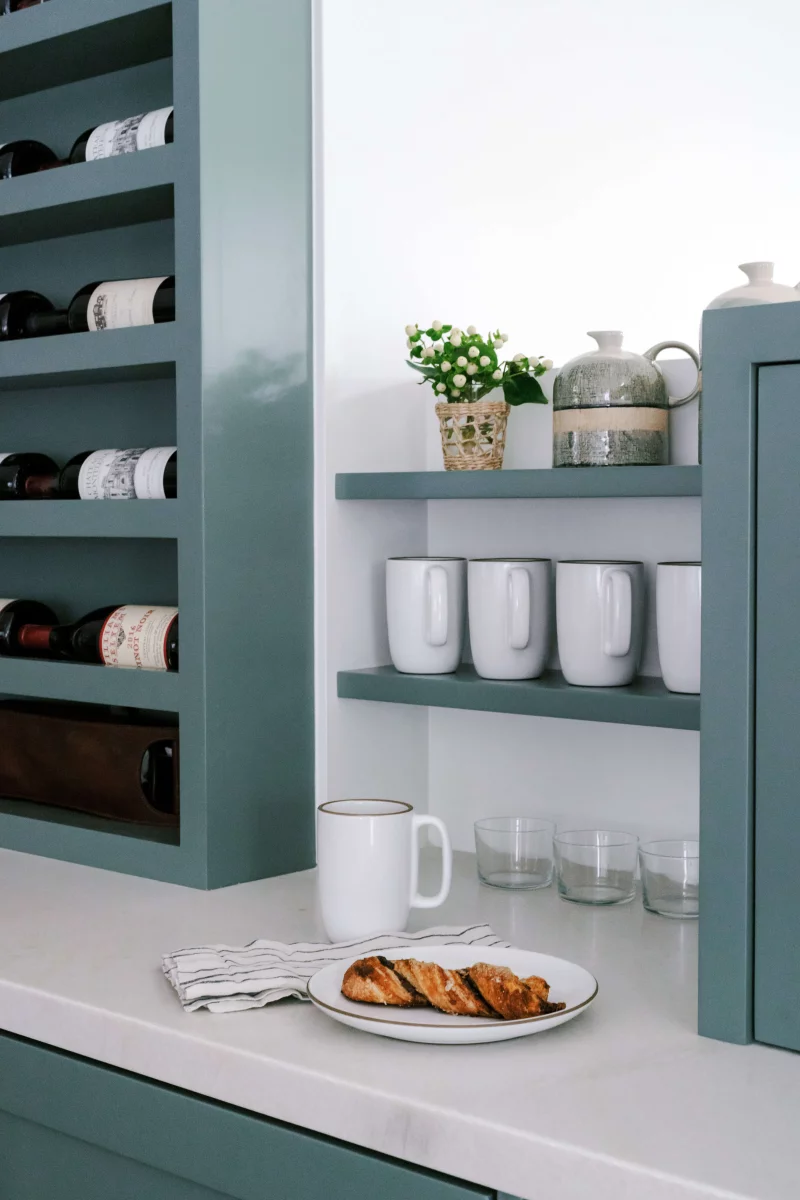 Pacific Palisades beverage center.
The painted cabinetry houses the tea kettle and pot filler, which complete this family's all-in-one space for beverages of all kinds.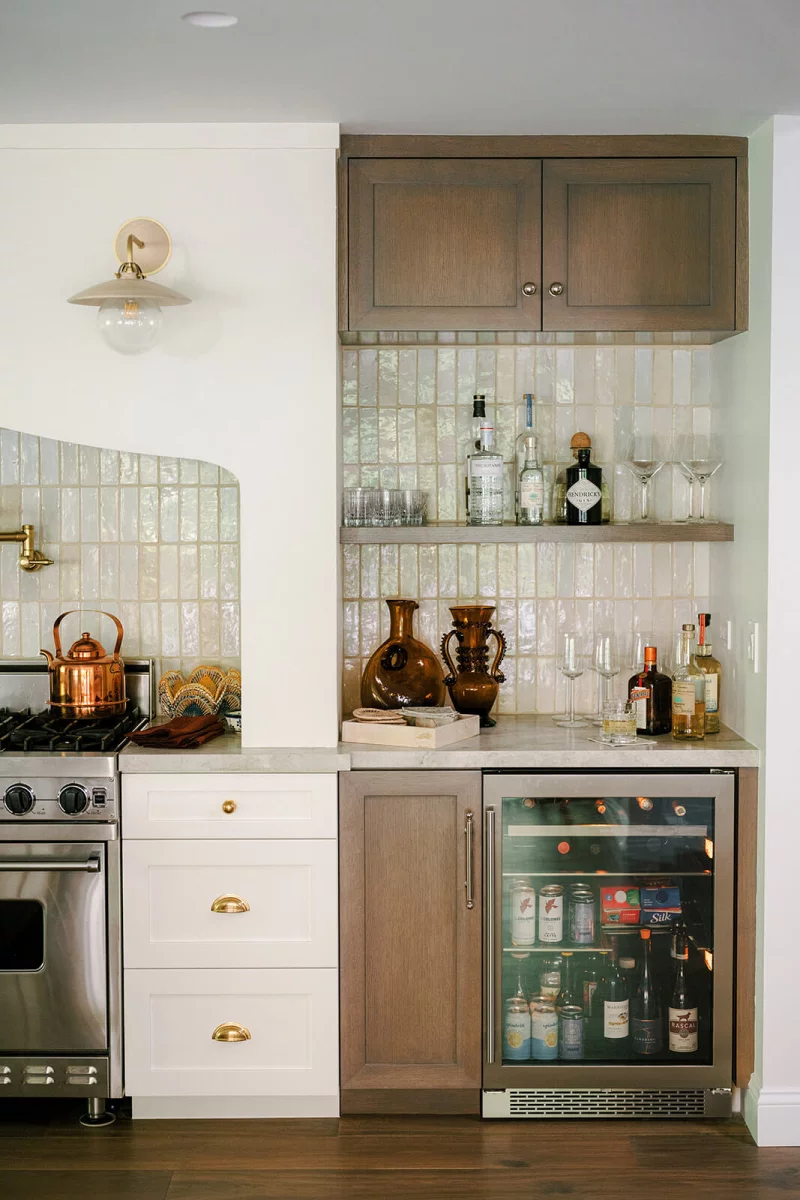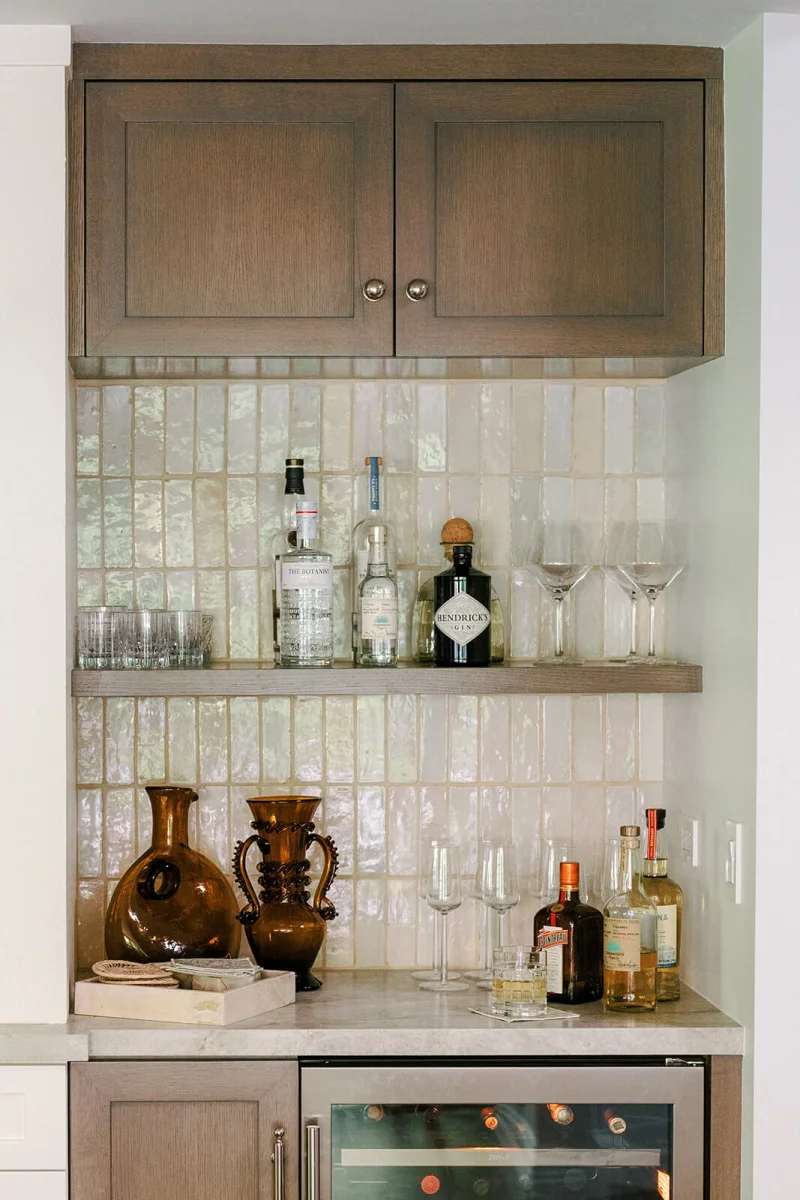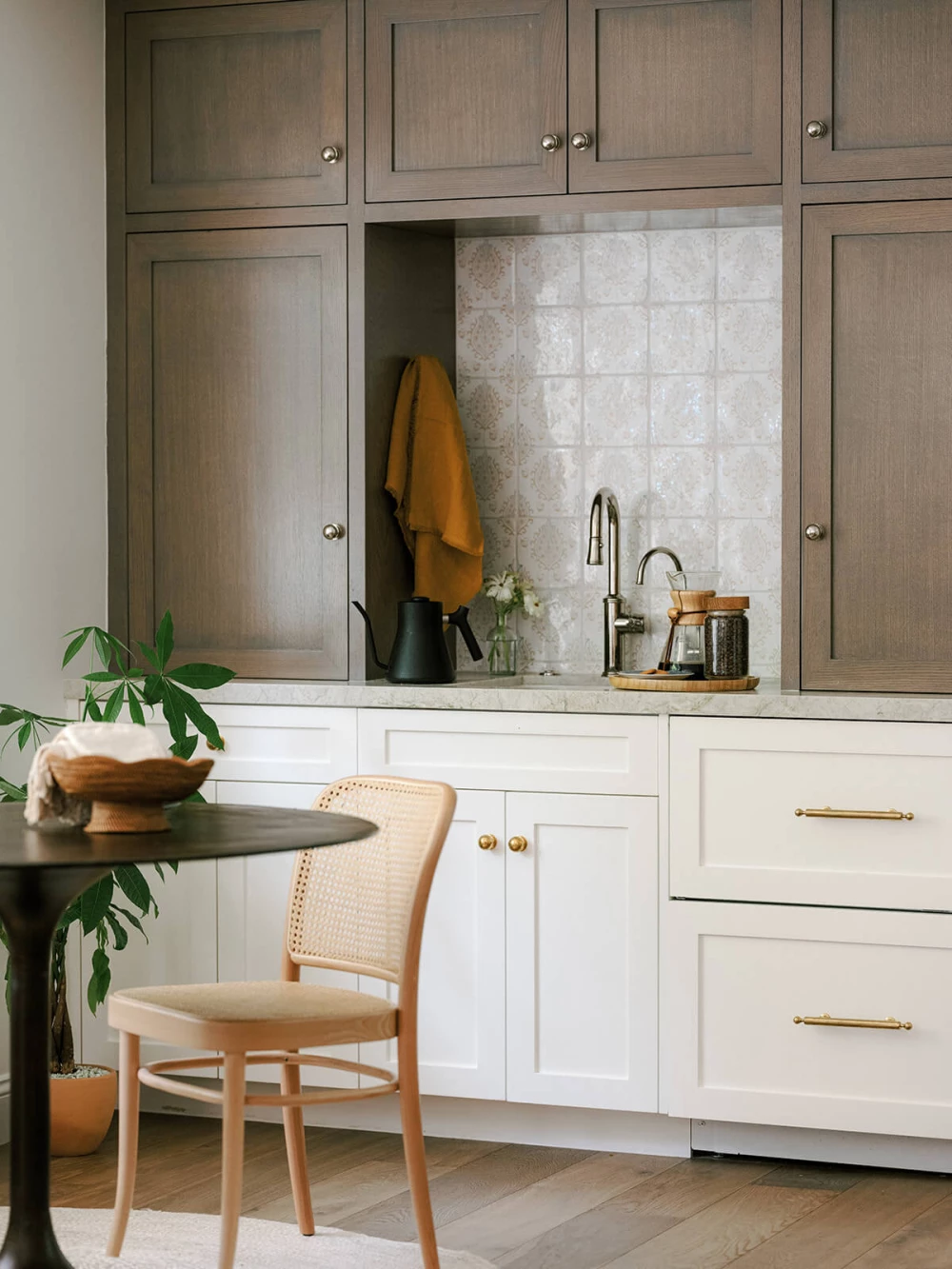 Los Angeles smoothie and coffee bar.
Pull open the drawers to find refrigerator and freezer drawers with all of the ingredients for your favorite morning smoothie. Open the custom-stained cabinets to use the  blender and espresso machine.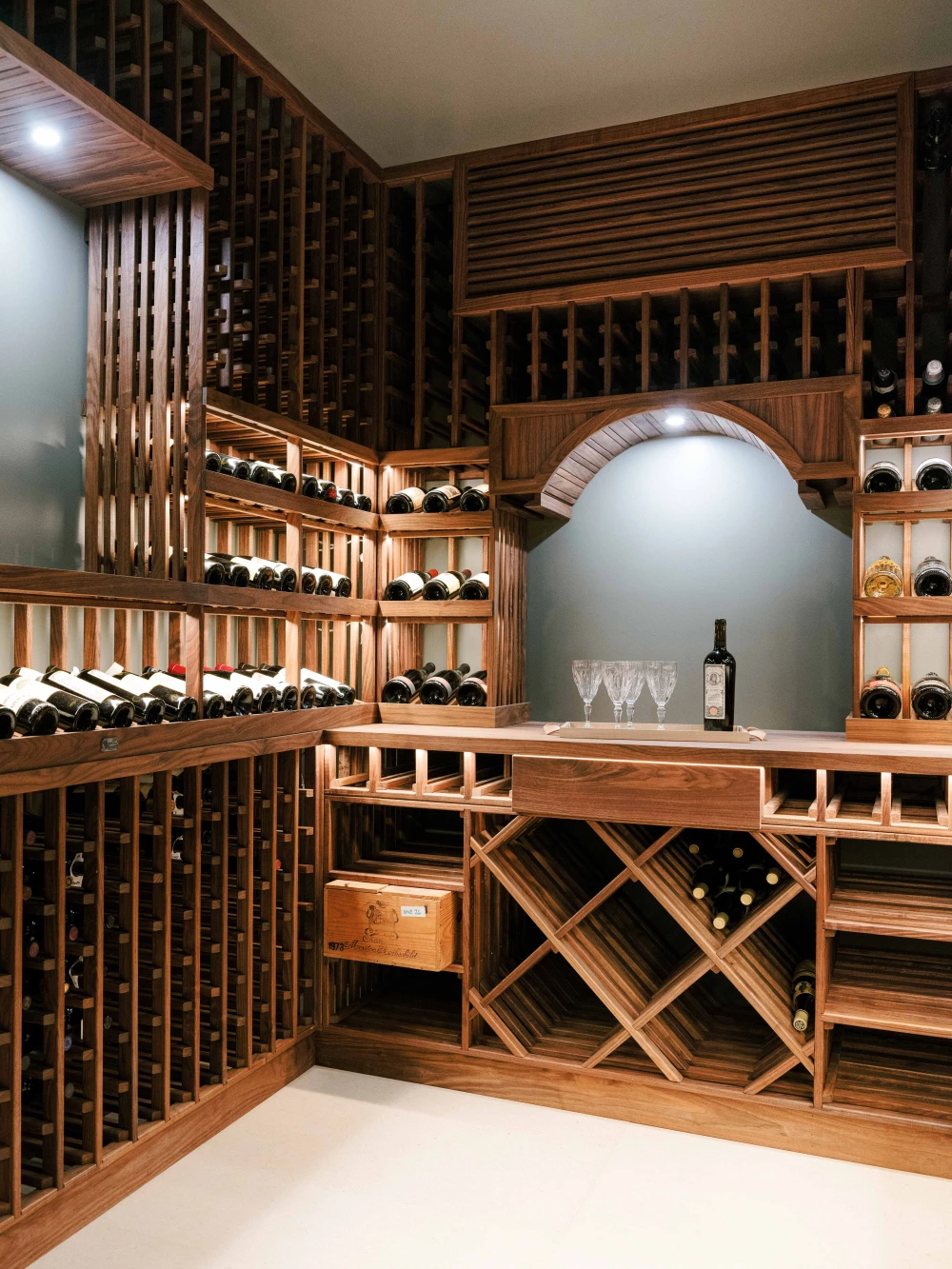 Beverly Hills wine cellar. 
From ultra private tastemaker events, far-flung weddings in the most exotic locales around the globe, to full-scale private home transformations, the signature Lynden Lane space creates the moments that amplify life's greatest milestones.
Until next time,